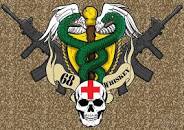 Active Duty Military
68 W to AEMT Fast Track
Complete training as a NREMT Advanced EMT while continuing your Military Mission.
Fast Track includes 2-3 day skills session, 24 hours Hospital Clinical Rotations and 48 Ambulance
*Skills and Hospital to be completed in El Paso, Texas
**Ambulance Rotations are available throughout Texas with American Medical Response,Teringua Fire and EMS and of course in El Paso
After completing the AEMT course you can then continue on to the Paramedic level course. More information to come.
NON-Medical MOS Reservists who are EMS Civilians
Are you an EMT Professional in the Civilian World who was called up to serve.
Deployed and lost your EMT certification credentials and need to go back to work now that you are back CONUS
We can help you! No waiting, get started today and Fast Track your way back to NREMT Certification.
Active Duty Military –What's available for your Spouses?
Are you a 68W and your spouse has taken an interest in what you do? Are they looking for a new career? Or an exciting career that moves with you as you PCS?
EMT Courses are great stepping stones to an EMS Career working on an Ambulance in an Emergency Room are just some possibilities . Some individuals use their training to work at summer camps, continue on to nursing school or even medical school. Firefighting and security work are only some of the few ways to put your EMT Skills to great use. This course will give you a taste of medicine from all angles not to mention can give you the skills to make your own home and children safer.
Individuals can complete this course in a little as 4 weeks or take up to 6 months while attending FRG Meetings, getting ready for Deployment or Re-Deployment of your Services Member, working Mom's and Dad's living everyday as a Soldier, Sailors, Marine or Airmen's spouse.
See if your Spouse qualifies for MYCAA and get started today!
Contact us for more information at This email address is being protected from spambots. You need JavaScript enabled to view it. please include your name and phone number so we can have a counselor contact you with course details.